AGC Chemicals Celebrates 100th Anniversary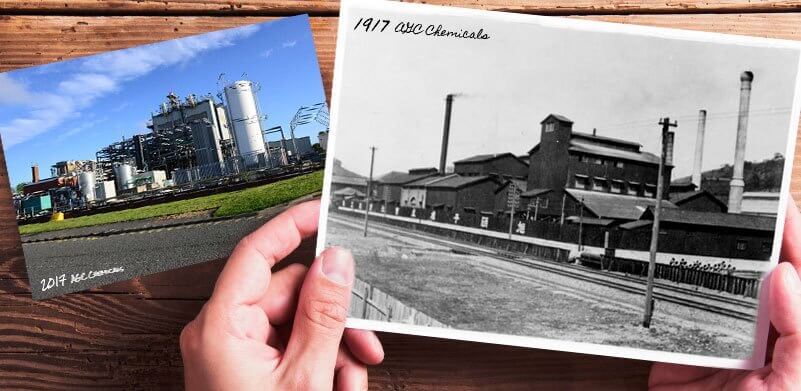 Reading Time: 2 minutes
We're excited to celebrate the 100th anniversary of AGC Chemicals, a wholly owned subsidiary of Asahi Glass Company. Asahi Glass Company started its chemical business in 1917 with the production of soda ash. Since then, the company has grown substantially, expanding its expertise into chlor-alkali and urethane, gas and solvents, fluoroproducts and life sciences.
100 years of Fluorochemistry
Here at AGC Chemicals Americas, we manufacture, market and sell a variety of fluoroproducts. This includes Fluon® fluoropolymer resins, AFLAS® fluoroelastomers, AsahiKlin fluorinated solvents and PTFE compounds. These products resist harsh chemicals, extreme heat and severe weather conditions.
Through our Chemistry for a Blue Planet Program, we work towards creating a safe, secure and environmentally friendly world with chemical technology. We use high-quality, environmentally friendly chemicals to reduce the environmental impact of chemical production and use.
Over the past 100 years, AGC Chemicals has established a global presence by listening to the needs of our customers and responding with new technology.
Our History over the Past Century
AGC Chemicals can trace its roots all the way back to World War I. When it became impossible to import soda ash, an ingredient of sheet glass, from England, AGC Chemicals launched its own soda ash production operation in Kitakyushu, Japan.
From there, the company expanded into the high-functional chemicals business. AGC's chlorine/fluorine chain serves as the "backbone" for gases/solvents, including high-functional fluorine products and refrigerants.
Over the years, the company has encountered challenges, such as developing new products and applications to meet customers' needs, while becoming a steward of the environment. Responding to a fast-changing market, AGC was able to grow and evolve into one of the world's largest manufacturers of chemical products.
In 2004, AGC Chemicals Americas was formed through the merging of sister companies Asahi Glass Fluoropolymers USA and AGA Chemicals. We're headquartered in Exton, PA, a suburb of Philadelphia.
AGC Chemicals' Bright & Promising Future
Today, AGC Chemicals has branched out our chemical chain into life sciences. We are a leading supplier of active ingredients and intermediates for pharmaceutical and agrochemical applications, as well as biopharmaceuticals.
In fact, AGC recently acquired two biopharmaceutical companies based in the United States and Europe. These companies produce active pharmaceutical ingredients and intermediates. Using these companies' expertise and existing client bases, AGC will establish a strong presence in overseas markets.
Moving forward, AGC will continue to enhance its businesses and technologies to meet customers' diverse needs and offer significant value in a vast chemicals industry. We look forward to the next hundred years of growth and service to the chemical industry!
To learn more about AGC Chemicals, contact an expert or view our product line.