Celebrating Fluon® ETFE's 50th Anniversary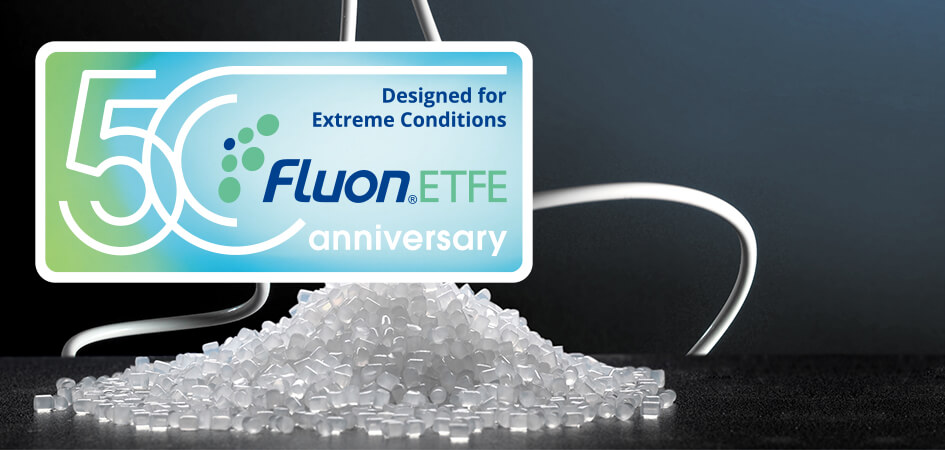 Reading Time: 4 minutes
Created in 1972 by AGC, Fluon® ETFE high-performance fluoropolymer resins have been used in hundreds of different applications worldwide including tubing, piping, wire/cable coatings, hoses, architectural films, valves and other components. When made with ETFE melt-processable resins or films, these components are physically tough and able to withstand extreme conditions, chemicals, UV and weather.
For the past 50 years, ETFE resins have been the material of choice for products and components that need to perform and keep performing in difficult environments both inside and outside.  ETFE films have been specified by architects and builders around the world to replace glass and other materials for roofs and facades. Though ETFE film is far lighter than glass, it is far stronger and better at withstanding extreme temperatures and chemicals. For example, a 16,000-hour accelerated weathering test, which is comparable to 30 years' worth of exposure, resulted in almost no signs of film deterioration.
Key Applications for ETFE materials
ETFE resins have been used in automobile components for decades, including in engine wiring, transmission wiring, under-hood wiring and fiber optic cables. The durability of these parts and components cuts down on overall industrial waste and helps keep vehicles running in the long-term.
ETFE has high heat resistance and flexibility, which helps extend the life of electric wires. For example, when used in under-the-hood wiring in next gen vehicles like electric vehicles that require high heat endurance and chemical resistance, ETFE can replace lesser performing conventional materials such as PE or PP.
ETFE resins are also used in applications that affect everyday life, but are invisible to the average consumer. For example, they are fitted for tubing that goes in and out of homes and businesses as well as lining for water tanks.
ETFE resins can be purchased in pellet or powder form and can be processed using extrusion molding, injection molding, blow molding or electrostatic coating.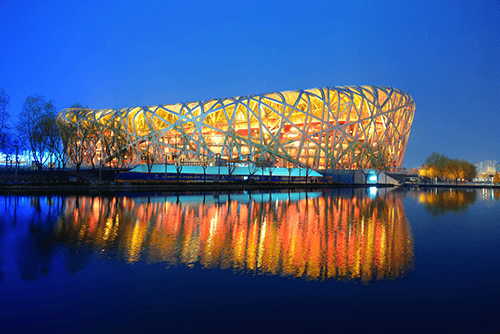 Expanding ETFE Resin Portfolio
As the decades have passed, AGC has continued to expand its portfolio of reliable ETFE resins based on different types of industries and environments. In addition to ETFE resins, AGC offers LM-ETFE resins.
LM-ETFE resins are modified to provide a 30-40 ℃ lower melting point. This wider temperature range allows for improved processability, flexibility and strength. They are processable by conventional extrusion and injection molding techniques and are available in rotomolding, rotolining and adhesive grades.
Below are some of the main differences between ETFE and LM-ETFE resins:
ETFE Resins:
Continuous use temperature range from -200 to 200 °C
Resistant to low-temperature impact down to -80 °C
Superior tensile elongation and strength
Can be cross-linked with electron beam for increased toughness
Stable mechanical and electrical properties
UV resistance
Long-term weatherability
Excellent chemical resistance to inorganic acids/bases and organic solvents
Nonflammable material conforming to UL Standard 94V-0
FDA-compliant for Food Contact Notification (FCN) number 481
LM-ETFE Resins:
High heat resistance
30 °C to 40 °C lower melting point than other ETFE materials
Outstanding resistance to weather and aging
Nonflammable material conforming to UL Standard 94V-0
Dielectric properties
Non-stick characteristics
Improved optical clarity; higher transparency than conventional EFTE
Higher limiting oxygen index (40% versus 31%)
Low smoke and flame characteristics
Can withstand flex of over 100,000 times
Can be cross-linked with electron beam for increased toughness
FDA-compliant for Food Contact Notification (FCN) number 481
Click here.for a complete look at the chemical resistance of these resins.
ETFE Films
In addition to the resins, AGC produces a series of Fluon ETFE films, which are a high-performance fluorine-based film used in architectural structures around the world because of their exceptional transparency, antifouling properties and durability.
These films are most commonly used for architectural roofs and facades. In fact, they cover the roof of SoFi Stadium in Los Angeles, home of the NFL's Chargers and Rams, and were on display in February 2022 during the Big Game.
The films were also used to convert arenas in Beijing created to host summer events to being appropriate to host winter events. For example, the Beijing 'Water Cube' was retro-fitted with the film and other materials to become the "Ice Cube," which was on prominent display during the 2022 winter events.
Although it is far lighter than glass, ETFE film will not easily rip or scratch, even in harsh environments. It has a high tensile elongation (200-510) and tear strength, as well as a thermal melting point of 260°C and a linear thermal expansion coefficient of 9.4.
This film is available in various thicknesses and finishes, ranging from 12µm to 250µm, and has light transmission options of over 90%.
Building a Sustainable Future
The Fluon ETFE resins and films are helping lead the way to a more sustainable future. For starters, these products are made from a natural material called fluorite, which is the mineral form of calcium fluoride.
Once made, the resins and films have excellent durability, are long-lasting and recyclable. In the transportation industry, the resins have the ability to extend the service life of products.
F-Clean films specifically can be collected after they are discarded and spread on soil for agriculture. This is a new initiative to promote food safety and re-use products instead of fully discarding them. A long life for all these products cuts down on the overall industrial waste across the planet.
The market for both the resins and films are expected to increase in the future for high-tech products, aircrafts and medical equipment.
Stable Production and Reliable Customer Service
Unlike much of the industry, AGC has increased production of these products despite disruptions around the globe caused by the COVID-19 pandemic and subsequent supply chain issues.
Over these last 50 years, we have created a superior supply capacity compared to competitors because of high production technology, stable production, supply capabilities and reliable customer service.
Fluon ETFE resins and films have played a big role in everyday life over the past 50 years. With their adaptability to new technologies and increased usage in technology and infrastructure around the world, these products will help lead the way into a more sustainable and convenient life for the next 50 years and beyond. We look forward to seeing what the future holds.
To learn more about the advantages of Fluon ETFE and LM-ETFE resins or Fluon ETFE films for your application, contact an AGC product expert.