FEVE Resins Protect New York City's Newly-Renovated Nassau Veterans Memorial Coliseum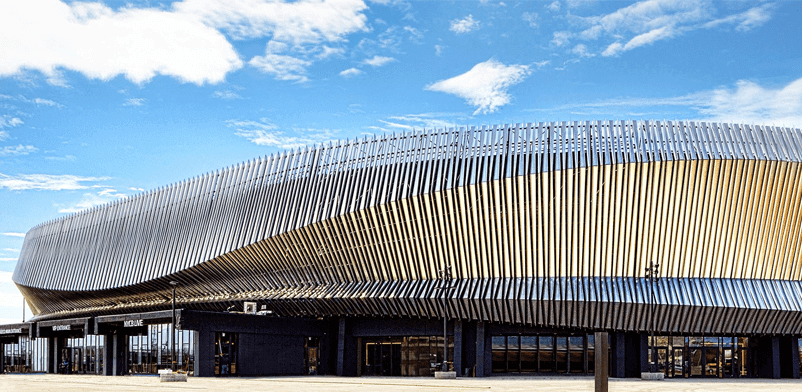 Reading Time: 2 minutes
The 45-year-old Nassau Veterans Memorial Coliseum recently had a major overhaul to bring the arena into the 21st century. This multi-purpose facility is protected from weather and wear by FEVE resin technology and will continue to be a staple in New York culture for decades to come.
A Remarkable Renovation
The arena, branded as, NYCB Live: Home of the Nassau Veterans Memorial Stadium, is located in Uniondale, New York. Most people know it as the previous home of the New York Nets. It has also been the home of the NHL's New York Islanders for over 40 years.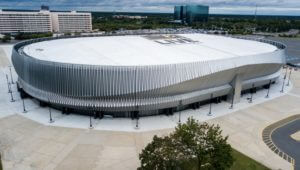 By 2017, the 416,000 square foot arena's plain concrete exterior was really starting to show its age. A major makeover was required to update the design, save it from demolition, and guarantee that it would be able to host basketball games, hockey games, and concerts for years to come.
To accomplish this, SHoP Architects designed a stunning new exterior using 225,000 square feet of 4-millimeter aluminum composite material. Metal frames and 4,700 aluminum composite fins attached to the concrete exterior give the venue a futuristic look. The arena's renovation was the recipient of the Chairman's Award for design excellence from the Metal Construction Association.
A Defense as Strong as The Teams That Play Inside
Designers decided to coat the new exterior façade with a fluoropolymer-based FEVE resin to protect it from weathering and guarantee long-lasting beauty. LUMIFLON® resins preserve the aluminum fins and allow them to retain their beautiful color and gloss for years to come.
LUMIFLON FEVE resins protect surfaces from:
UV radiation
Water
Salt
Chemicals
Corrosion
Topcoats and other formulated with LUMIFLON resins don't degrade like other coating systems. They can be applied to steel, aluminum, concrete and many other substrates that need protection from environmental corrosion.
Find out more information about LUMIFLON FEVE resins.
Read more about the Nassau Memorial Coliseum project.