New eBooks Available on Repellent Nonwoven Fabrics for Automotive and Medical Applications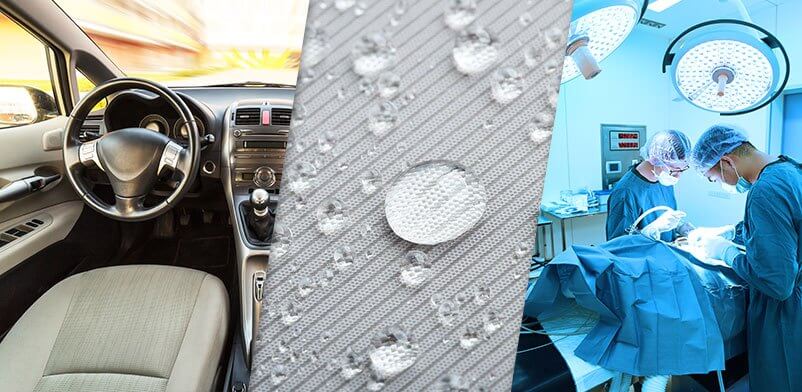 Reading Time: 2 minutes
Our AsahiGuard line of fluorochemical-based coatings make any fabric, paper and nonwoven fabric repel water, oil and other fluids. With the increasing use of repellent nonwovens for automotive and medical products, we recently published two new eBooks to aid product selection.
These eBooks provide helpful information for both nonwoven fabric mills and manufactures of nonwoven automotive parts and medical disposables. Including, the advantages of using nonwovens, differences in repellent bases, selecting the best repellents and the importance of testing options for nonwovens.
Inside each eBook!
The Advantages of Using Nonwovens — Nonwoven fabrics are growing in popularity as manufacturers in various industries are looking for better ways to fabricate durable products. Whether it is automobile interiors or surgical disposables, nonwovens are a cost-effective way to improve product performance.
Fluoropolymer-Based vs. Silicon-Based Repellents — When selecting the best repellent for liquids and oils, fluoropolymer- and silicon-based repellents offer different advantages for nonwovens. For example, it is important to compare the surface energy, cost, water repellency, oil/solvent repellency, durability, and loading requirement of each repellent.
Selecting the Right Repellents for Nonwovens — Most manufacturers specify repellent coatings for disposable nonwovens so they can repel liquids, release stains easier, or both. However, selecting the best fluorochemical grade is challenging because repellency and stain release are competing properties.
Testing Options and Their Importance — Numerous tests can be conducted to help mills and manufacturers select the best repellent product for each nonwoven project. In addition, the reliability of performance evaluations is just as important as the result of those evaluations.
Repellent nonwoven fabrics are the ideal material for a growing number of automotive and medical products. Now you can better understand the benefits of manufacturing products with AsahiGuard-treated fabric.
To download our free eBook on Repellent Nonwoven Fabrics for Automotive Parts and Interiors, or Medical Disposables, click here.