New AFLAS Grades for High-Performance Automotive Hose Constructions

Reading Time: 2 minutes
Today's automotive engineers are challenged to design lightweight vehicles that operate with maximum power and minimal fuel consumption. With great emphasis placed on turbo efficiency, it is important to select materials for engine components that can stand up to demanding, under-the-hood applications.
Recent advances in lamination technology for multi-layer hose constructions have caused manufacturers to reevaluate their use of traditional materials like acrylic rubber, silicone rubber, and FKM. AGC has developed two new AFLAS FEPM (tetrafluoroethylene propylene) grades as a superior alternative for use in high-pressure, high-temperature engine areas.
Adding a layer of AFLAS 400E or 600X to a hose construction enables it to continue to function reliably despite ongoing exposure to NOx, SOx, engine oils, and other aggressive automotive fuels.
The AFLAS Advantage
AFLAS 400E and 600X help extend the life of automotive hoses because they can withstand continuous temperatures up to 200°C and have excellent resistance to oil, acid, base, and steam. These benefits make the new grades ideal for applications such as:
Intercooler hoses
Blow-by hoses
Turbocharger hoses
Oil cooler hose
Oil return hose
PCV hose
EGR hose
CAC hose
ATF hose
Coolant hose
Multi-Layer Hose Technology
AFLAS 400E and 600X can be laminated directly to dissimilar elastomers without using a tie layer or adhesive. This allows the material to achieve a peel strength that exceeds 7 N/in at operating temperatures over 150°C. The material also colorable and cures rapidly for easier processing.
AFLAS is typically used in the innermost layer of the hose, covered with an intermediate like AEM, ACM, VMQ, EPDM or FKM. The hose is then covered by textile reinforcement and finally an outer cover.
AFLAS vs. FKMs
FKM was introduced in the 1950s as an ASTM (American Society for Testing and Materials) designated class of fluorinated, carbon-based synthetic rubber, or fluoroelastomer. In 1975, AGC Chemicals Americas developed AFLAS fluoroelastomer based on the alternating copolymer tetrafluoroethylene (TFE) and propylene.
AFLAS fluoroelastomers and FKMs can all withstand high heat applications and offer excellent flexibility and chemical resistance. AFLAS, however, is better suited for applications involving harsh automotive fluids like engine oils, AT fluids, gear oils, and hot steam.
When tested, notable changes were observed with tensile strength and elongation with FKM due to scission substances attacking the polymer. AFLAS has much higher durability.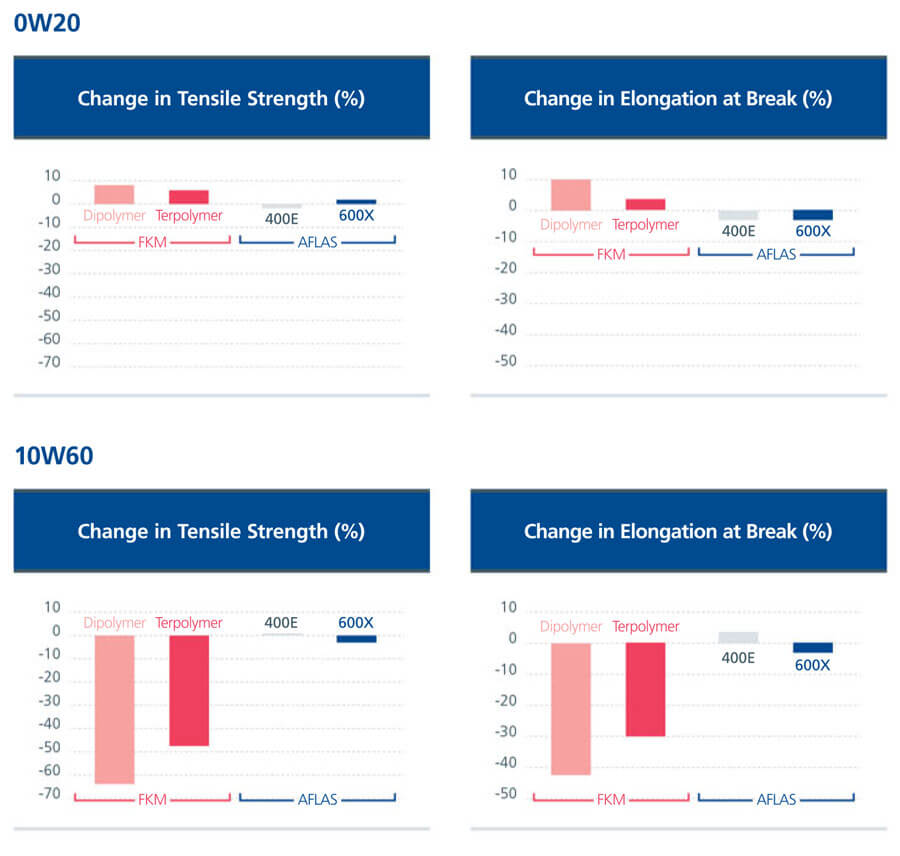 AFLAS grades are an ideal choice for parts and components that need to perform in the harshest environments. To learn more about adding AFLAS to your application.