Fluoroelastomer Rubber Produces Superior and Environmentally-Safe Seals When Bonded with Waterborne Adhesives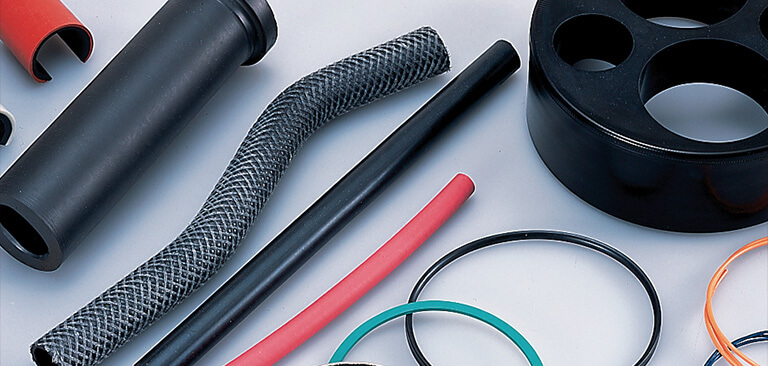 Reading Time: 4 minutes
In this blog post, we will be discussing the use of fluoroelastomer rubbers as an option for creating rubber parts and components. These parts, such as shafts, cylinder head gaskets, oil seals, and packer elements, are crucial in protecting sensitive equipment from harsh environmental conditions that may affect their performance.
Rubber seals are also important in preventing the leakage of liquids and gases into other parts of the machinery, such as pumps and pipes. This is especially crucial in industries like automotive, gas and chemical processing, where rubber seals play a significant role in extending the lifespan of equipment and minimizing the need for frequent maintenance.
Fluoroelastomer rubbers as seals
Rubber is an excellent material for sealing because of its elasticity, ability to withstand tearing and abrasion at high temperatures, and resistance to corrosive fluids. Fluoroelastomers (FKMs) are synthetic rubbers that have been specifically designed to perform well in harsh environments. They have the highest heat resistance of all synthetic rubbers.
However, not all fluoroelastomer rubbers are created equal. AGC's AFLAS resins are made from tetrafluoroethylene and propylene, resulting in unique properties that surpass conventional FKM-type fluoroelastomers. This synthetic polymer, also known as the FEPM series, has exceptional resistance to heat, bases, solvents, ozone, and steam. It also has a long service life when operating at both low and high temperatures.
Manufacturers typically use PTFE as a granular powder to add to other materials. The controlled emulsion polymerization process mills PTFE into white particles of various sizes. This PTFE micropowder can be added to rubber or plastics or dispersed as a dry lubricant to improve the friction and wear of the base material.
Virgin PTFE powders, made from new rather than recycled PTFE, provide the highest quality and consistent performance. The Food and Drug Administration approves virgin PTFE for use in the food, beverage and pharmaceutical industries.

Fluoroelastomer seals are ideal for use in harsh environments that contain oils, steam, aqueous and non-aqueous acids and gases due to their superior properties. In the oil and gas exploration industry, for example, seals, packers, and O-rings made of fluoroelastomer rubbers are used to withstand chemicals, oils, solvents, and extreme heat, thereby extending the life and performance of seals.
Solvent-free Rubber-to-Metal Bonding
Bonding fluoroelastomer rubbers to metal substrates can be difficult due to their non-stick properties. While this makes the polymer resistant to moisture, chemicals, heat, and cold, it also makes it hard to bond with adhesives. However, reliable bonding is crucial for product and process performance, quality, and safety.
The MEGUM® W-2525 waterborne adhesive system has been proven to bond specific AFLAS fluoroelastomers to metal in a single step. Traditional rubber-to-substrate adhesives contain between 50 and 95 percent organic solvents, but the MEGUM adhesive is based on water instead of chemical solvents. This means it is free from lead levels, chlorinated solvents, or ozone-depleting chemicals, making it better for the environment and worker safety.
Despite being water-based, the adhesive is highly resistant to heat, oil, water immersion, and corrosion. It also dries two to four times faster than solvent-based adhesives, reducing exposure and production process times, ultimately providing more value for end customers.
Adhesion Testing
Recent tests were conducted according to ASTM D-429 (Method B) to determine the effectiveness of the MEGUM® W-2525 waterborne adhesive system. The tests involved bonding two different elastomer compounds formulated with AFLAS 600X and AFLAS 100S FEPM-based grades to carbon steel.
To measure the bonding strength, the force required to separate the rubber from a metal surface was measured using the following steps:
A strip of rubber was press-molded onto a metal plate measuring 1.6mm thick by 25mm wide by 60mm long, using a 25mm-by-25mm bonded area in the middle of the metal piece.
The test specimen was placed in the jaws attached to the fixed grip with the separating edge.
Before applying the load, the rubber was stripped from the metal plate with a sharp knife.
The metal was placed in the grip before applying a steady load at a test speed of 2.0 in./min until separation was complete. ASTM D429 Method B requires a constant rate (speed) of 2 – 0.2 in./min.
The force vs. displacement was recorded in pounds per square inch of length of the peel line.
The results of the tests showed that both grades had 100% retention of rubber and high peel strength, indicating the effectiveness of the MEGUM® W-2525 waterborne adhesive system.
About ALFAS Fluoroelastomer Grades
AFLAS fluoroelastomers are available in different grades for various applications. The AFLAS 600X FEPM grade is suitable for molded products such as packers, bladders, gaskets, and O-rings. These products are durable and last longer in wet, high-pressure, amine- and base-rich environments found in oil and gas recovery operations. AFLAS 600X has a faster cure speed, improved compression set and mold release and is colorable. They also exhibit excellent electrical and thermal resistance, and do not deteriorate under prolonged exposure to temperatures as high as 446°F (230°C).
The AFLAS 100S grade is ideal for enhancing performance in durable packers, bladders, gaskets, and O-rings. It is resistant to acids, bases, solvents, hydrocarbons, sour oil, amines, extreme temperature ranges, and high-pressure environments. AFLAS 100S, 150P, and 100H are FDA-approved for food contact.
The AFLAS 100 and 150 grades are fluorinated elastomers that can be fabricated into finished parts, shapes, and seals such as rubber seals and gaskets. These polymer compounds are used in various industries, including oil and gas, chemical processing, wire and cable, and food handling and pharmaceuticals, where failure is not an option.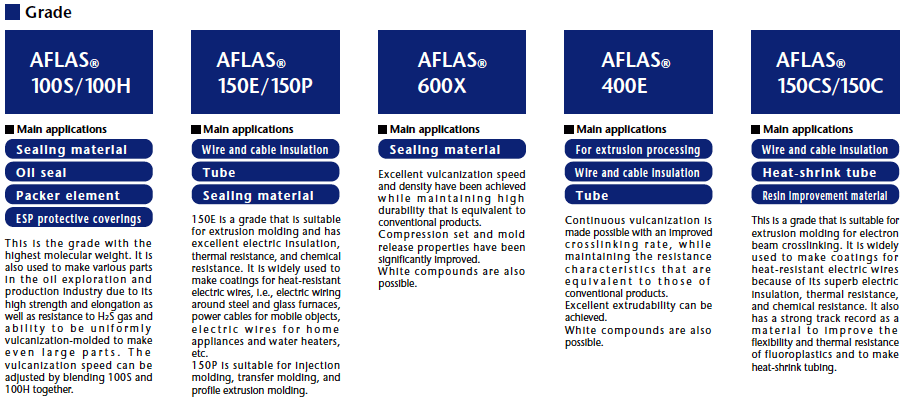 Overview
Fluoroelastomer rubbers, specifically AGC's AFLAS resins, are an excellent choice for creating rubber parts and components, including seals for machinery in harsh environments. AFLAS resins have exceptional resistance to heat, bases, solvents, ozone, and steam, making them ideal for use in industries like oil and gas exploration. However, bonding fluoroelastomer rubbers to metal substrates can be challenging, but the MEGUM® W-2525 waterborne adhesive system can effectively bond specific AFLAS fluoroelastomers to metal without the use of organic solvents. The water-based adhesive is also resistant to heat, oil, water immersion, and corrosion, and dries faster than solvent-based adhesives, making it a better choice for the environment and worker safety.
AGC is the only manufacturer of AFLAS in the world. Find out more about AFLAS fluoroelastomers at https://www.agcchem.com/products/fluoropolymer-resins/fluoroelastomers/ or contact AGCChemicals.Info@agc.com.