Protect Life-Saving Pharmaceuticals with Fluorinated Resin Coatings for Glass Packaging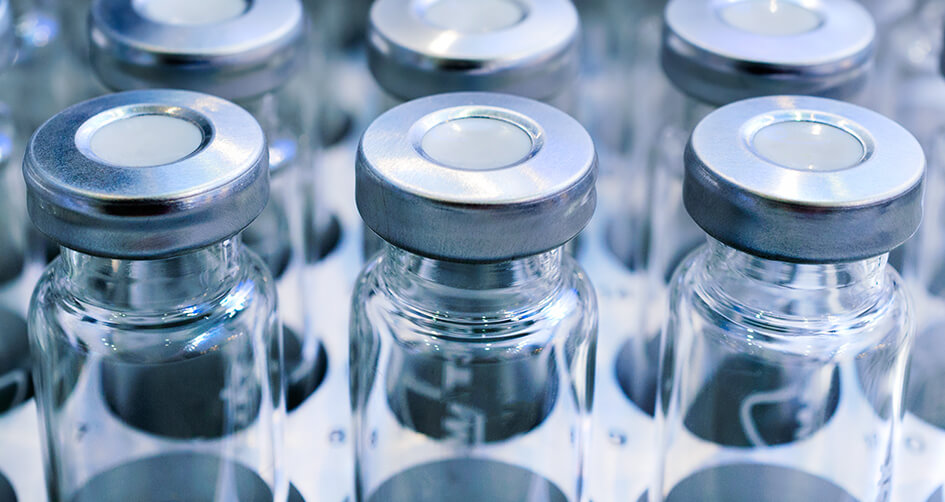 Reading Time: 2 minutes
The COVID-19 pandemic brought public attention to the complex pharmaceutical supply chain—product development, production and distribution. Playing an important role in the worldwide vaccination effort are the glass vials that contain the billions of doses needed for global distribution. To get the vaccine to the public, it is first produced in bulk, then transferred to a filling line where it is dispensed into the vials. The vials are then inspected, labeled, packaged, stored and shipped.
Borosilicate Glass
Borosilicate glass is the most commonly used material for drug packaging like vials, ampoules and prefilled syringes. It is also widely used in laboratory glassware. That's because it has high chemical, thermal, acid and alkaline resistance, as well as good optical clarity.
However, borosilicate glass isn't perfect. For example, borosilicate glass pharmaceutical vials can crack during filling and transportation. This leads to product loss when the vials break completely or contamination when glass flakes mix with the contents.
Fluorinated Resin Coating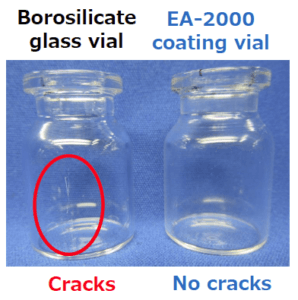 One way to prevent this cracking is to coat the glass with a fluoropolymer-based resin. Fluon+ EA-2000 melt processable perfluoro resin improves the collision resistance of glass vials. This resin features a built-in functional adhesive group within the polymer backbone that enables superior adhesion and one-step processing with other materials, including borosilicate glass. It also eliminates the need for surface treatment or a separate adhesive layer.
Fluon+ EA-2000 resin improves the impact strength of the glass vials to prevent damage from friction contact during production, storage and transportation. It also enhances heat and chemical resistance during the sterilization process. Fluorinated resin coatings like EA-2000 require just 1-5 minutes of drying time at 100 °C compared to chemically strengthened glass that can take up to 10 hours to apply.
To demonstrate this, we performed collision tests on borosilicate glass vials with and without Fluon+ EA-2000 resin coating. The glass with the coating prevented cracks on the glass surface.
Performance Benefits in Other Applications
In addition to coating glass, Fluon+ EA-2000 resin provides excellent adhesion to metal, thermosetting resins and thermoplastic resins. Furthermore, it has a continuous service temperature of 260 °C, a melting temperature of greater than 300 °C and low water absorption, making it ideal for a variety of applications. For example, it is ideal for coating and protecting printed circuit boards because it provides enhanced electrical characteristics. Because of its outstanding heat resistance, Fluon+ EA-2000 resin can perform under the harshest conditions of a 5G-capable device.
Other applications for these grades include interposer electrical signal conduits, steel plate laminates, heat-resistant insulating tape and laminated tubing, and carbon-fiber-reinforced polymer composite materials. It is available in powered, aqueous dispersion and film grades.
To learn more about the advantages of Fluon+ EA-2000 for your application, contact an AGC product expert.