AGC's Commitment to Quality: Bringing Your Ideas to Life Through Specialized Testing Services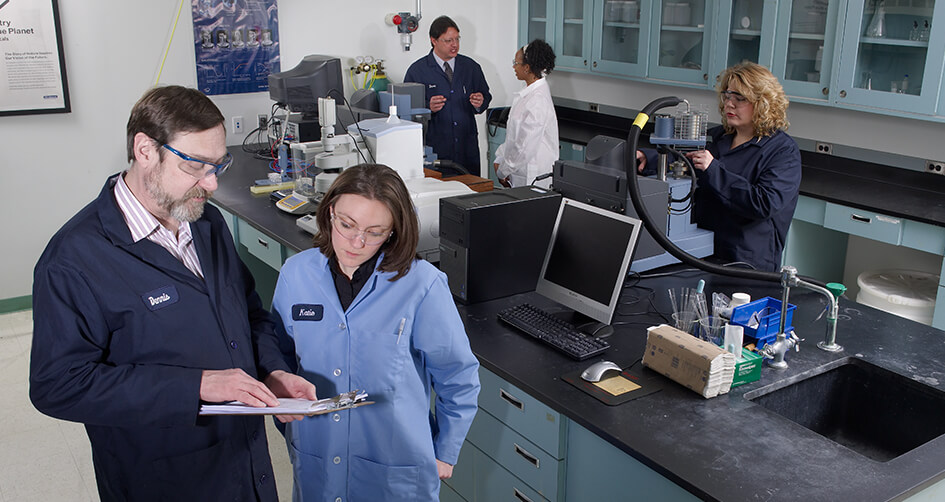 Reading Time: 5 minutes
As a leading global supplier of fluorochemicals and materials, AGC is committed to upholding the highest quality standards across all of our product lines. But you need to consider more than just quality when selecting a product to add to your formulation. You also need to ensure that it's the right fit for the application. That's why AGC offers our customers and prospective customers access to our innovative specialized testing labs for product development and testing.
When you work with AGC, you get access to a network of experts using high-quality advanced material science. Our technology center, located in Exton, Pennsylvania, provides:
Application and product development
Technical service
Physical testing
Analytical testing
Environmental studies
Material identification
In addition, we offer three specialized testing centers dedicated to our fluoroelastomer, fluorinated water/oil repellent, chlor-alkali and FEVE resin product lines. Through these specialized labs, we partner with our clients to build the right solution for their application's needs.
AFLAS® Testing Lab
AFLAS fluoroelastomers are used to enhance the durability and longevity of equipment components used in demanding industries. These industries include oil and gas production, chemical processing and transportation. Our AFLAS testing lab is used to test specific formulations. It also helps customers select the AFLAS grade that best meets their specific product performance requirements.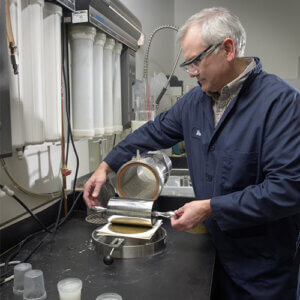 The 2,000-square-foot lab supports both AGC R&D and customers' product development thanks to equipment including:
Extrusion resistance test fixture to evaluate aspects of material suitability for seals under high pressure;
Thermtest thermal conductivity testing system to evaluate a material's ability to function as a thermal insulator;
Automated and programmable temperature and pressure controller for 10 L Parr pressure vessel to allow automated programming of pressure and temperature profiles to help determine rapid gas decompression resistance of molded parts while tracking and saving all data;
Four-inch two-roll rubber mill with fully temperature-controlled rolls, which lets operators independently control roll speeds and allows for creation of small batches of polymer for lab evaluation; and
French Vision Series 100-ton molding press with 18-inch-square isothermal platens, which allows for precise temperature and pressure control featuring programmable process cycling.
AsahiGuard® Water/Oil Repellent Testing Lab
AsahiGuard products are fluorinated water/oil repellents for fabrics, nonwoven fabrics, paper and other materials. Textiles and nonwoven fabrics treated with AsahiGuard resist dirt, oil and water, making them easy to clean and longer lasting. Our AsahiGuard water/oil testing lab contains extensive testing equipment specialized for developing repellents for textiles and nonwovens.
The 1,800-square-foot lab supports application services such as fabric preparation, treatment, drying, curing and ironing. The performance testing services include water repellency, oil repellency, spray performance, stain resistance, wash durability, hydrostatic testing, static decay and surface reactivity.
These resources help us better support customers in their quest to develop, test and apply innovative products that repel oil, water and dirt. Our state-of-the-art lab includes:
A Mathis pad coater and RK multicoater to provide various coating tests for paper, textiles and nonwovens;
Rapid stenter/dryer, which provides stable drying and curing of coated textile and nonwoven samples;
Electrolux Wascator automatic washing machine that ensures repeatable and reproducible experimental wash cycles for test fabrics;
Kenmore AATCC-cycle tumble dryer used for repeatable and reproducible experimental drying cycles for test fabrics;
AATCC spray tester that provides repeatable characterization of water resistance in coated fabrics and nonwovens;
Textest hydrostatic head tester, which measures the resistance of coated nonwovens to penetration from high-pressure fluids as might be encountered in medical scenarios; and
ETS static decay meter, which provides further information on charge management properties of coated nonwoven fabrics.
Brine Testing Lab for Chlor-Alkali Producers
AGC's commitment to advancing the chlor-alkali industry includes producing FORBLUE™ FLEMION™ ion exchange membranes to produce caustic soda and caustic potash in electrolysis plants. FLEMION membranes require less electrical current to decompose the purified brine, minimize the influence of brine impurities and enable manufacturers to maintain 97-98% electrical current efficiency.
Our brine membrane testing lab is used to analyze brine and raw salt and complete extractions from used membranes. Additionally, our experts prepare samples, conduct specialized tests and assist with history and recordkeeping for chlor-alkali producers. The 600-square-foot lab houses specialized tools including:
Inductively coupled plasma, which detects impurities such as calcium, magnesium, strontium, aluminum, silicon, iron, nickel, barium, phosphorus, copper and manganese;
Ion chromatography, which measures the levels of sulfate, chlorate and iodine;
Total organic carbons, often used when determining water quality and which indicates the amount of organic carbon in a sample; and
Auto titrator, which calculates the concentration of salt in brine solutions
LUMIFLON® Fluoropolymer Resin Testing Lab
LUMIFLON FEVE resins are used in topcoats to protect paint and structures from harsh environmental elements such as UV, salt, sand and water. These ultra-weatherable resins can be formulated into coatings with a wide range of gloss and color. In the LUMIFLON testing lab, our experts use state-of-the-art technology to test fluoropolymer-based coating systems. Our services include cross section coating morphology testing using SEM/DMX coupled with microtome using specialty equipment including: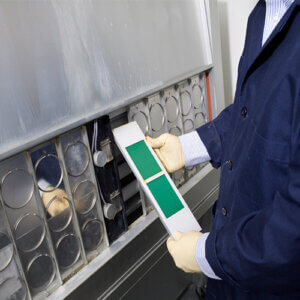 MP24PC Integra extruder from Baker Perkins (a fully integrated process system);
Ultra Centrifugal Mill Type ZM 200 from Retch used for the reduction of soft to medium-hard and fibrous materials;
Vibratory Sieve Shaker AS 200 from Retch used for dry sieving;
Encore® LT Manual Powder Spray Systems, a manual powder coating system; and
Four QUV-A weathering testers from Q Lab used to test the weatherability of coatings.
The LUMIFLON resins testing lab also has all the equipment required to mix and grind pigments and apply traditional coatings to a variety of substrates to test physical properties such as:
Impact resistance
Tensile
Gloss
Viscosity
Pencil hardness
Color
Lab technicians can also conduct accelerated corrosion tests and outdoor testing for real-world weathering exposure.
General Testing Capabilities
In addition to our specialized testing labs, we offer a full range of testing services that can demonstrate the performance improvements made possible by integrating our product grades into your formulation. Our experts work with you to select the grades that will work best in your application. Our services include:
Physical Testing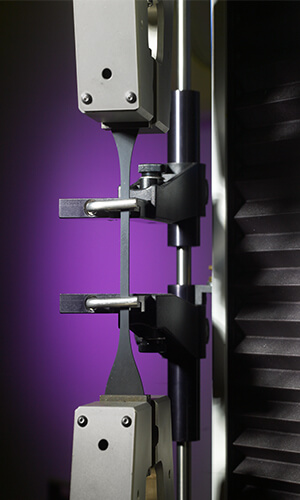 Tensile elongation/tear
Flex testing
Instrumented wear testing
Dynamic mechanical analysis (DMA)
Compression set
Impact and hardness
Abrasion
Environmental Studies
Heat aging
Fluid immersion
Weatherability
Material Identification
Gas chromatography
Infrared (FTIR) with microscope
UV/VIS/Near IR
SEM/EDAX
Color matching
Filler analysis
Thermal Analysis
Differential scanning calorimetry (DSC)
Thermogravimetric analysis (TFA)
Thermomechanical analysis (TMA)
Rheometry
 Melt indexing
Capillary
Thermoset (RPA 2000P)
Analytical Testing
Thermal
Chemical
Dynamic
Static
At AGC Chemicals Americas, it is our mission to work with our customers to create unique materials and solutions that can bring your ideas to life. To learn more about our testing services, contact an AGC product expert.