SURECO™ 2320 anti-smudge coatings resist fingerprints on touchscreen displays and other glass surfaces and make them much easier to clean. These transparent flouoropolymer surface coatings provide excellent water and oil repellency without altering the appearance of the surface. They also provide anti-fouling properties. Compared to competitive coatings, SURECO 2320 provides superior resistance to heat and abrasion. A thin monomolecular layer of SURECO can be applied on a glass or optical surface by wet coating, spray coating, dip coating or spin coating.
The SURECO™ trademark is registered in Japan.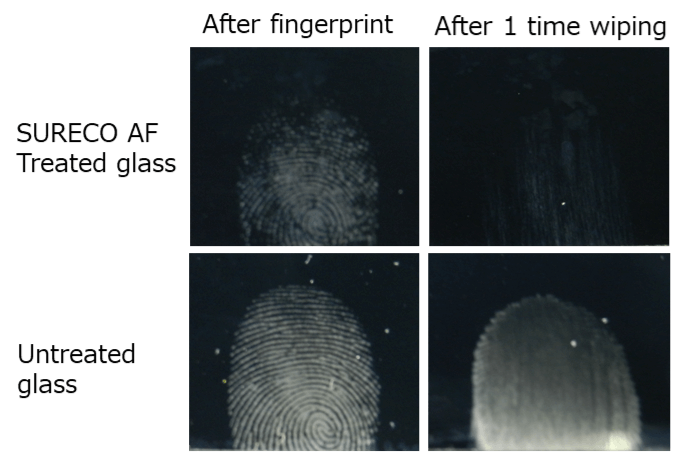 Pre-Treatment
Degreasing Treatment: Clean the substrate with a suitable solvent such as an alkaline cleaning agent and rinse the substrate surface with de-ionised water
Drying Treatment: Optionally clean the substrate surface with corona or plasma
Coating Types
Baking
Baking reduces the adhesion reaction time:
Examples: 120°C, ~10min / 80°C, ~15min / 60°C, ~2hrs / 25°C (Room Temperature), 40% Relative Humidity (RH),
~24hrs
Rinsing
If the surface is uneven, optionally wipe with a soft cloth or rinse the glass surface with a fluorinated solvent such as ASAHIKLIN™ AE-3000 or de-ionised water.