AGC Opens New Lab to Service Chlor-Alkali Producers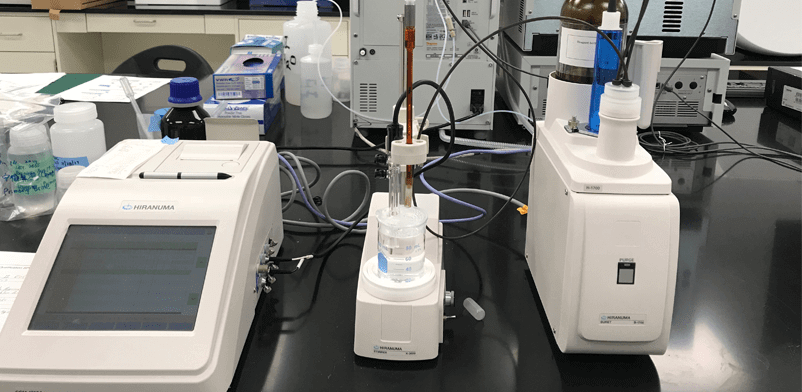 Reading Time: 2 minutes
AGC Chemicals Americas recently opened a 600+ square foot lab in Exton, Pennsylvania. The lab will provide brine/membrane testing services for our chlor-alkali producer customers. Our goal is to provide analysis and results data that aids our customers' continuous improvement efforts.
The lab is equipped with personnel and instruments to analyze brine and raw salt and complete extractions from used membranes. We can help analyze brine/membranes, prepare samples, conduct specialized tests, and assist with history and recordkeeping.
Customers can compare our testing results to theirs to check data accuracy. For example, an AGC Impurity Analysis report can help track historical performance or provide a benchmark with other sanitized data.
The new laboratory instruments include:
Inductively Coupled Plasma(ICP) – used to detect impurities such asCalcium (Ca),  Magnesium  (Mg),  Strontium (Sr), Aluminum  (Al), Silicon (Si) Iron (Fe), Nickel (Ni), Barium (Ba), Phosphorus (P), Copper (Cu), and Manganese (Mn)
Ion Chromatography (IC) – used to measure the levels of Sulfate, Chlorate, and Iodine
Total Organic Carbon (TOC) – indicates the amount of organic carbon in a sample and is often used when determining water quality
Auto Titrator – used to calculate the concentration of salt in brine solutions
Continuing Investment in Chlor-alkali Technical Services
The lab is AGC's latest investment in advancing the chlor-alkali industry. Last October we hosted the FLEMION Membrane and Chlor-Alkali Technology Symposium, a valuable educational and networking event for chlor-alkali producers of all levels of experience. Attendees learned the latest in membrane operation and function to brine management, voltage monitoring and other ways to improve facility performance.
Our chlor-alkali customers use FLEMION® ion exchange membranes to produce caustic soda/caustic potash in electrolysis plants. FLEMION membranes:
Require less electrical current to decompose the purified brine.
Minimize the influence of brine impurities
Enable manufacturers to maintain 97-98% electrical current efficiency
A Long History in the Chlor-Alkali Industry
AGC Chemicals Americas is a wholly owned subsidiary of Asahi Glass Co. Ltd., which was established in 1907. AGC began soda ash production in 1917 and caustic soda production in 1933. AGC is the seventh largest caustic producer worldwide, with a total production capacity of 1.7 million MT. By 1975 they had created FLEMION membranes, and recently launched FLEMION 9010X, offering:
The lowest voltage (-50mV at 6 KA/m2)
Higher CE in wider range
Higher durability against impurities
Optimized reinforcing cloth
More robust
To learn more about our chlor-alkali testing services or FLEMION ion exchange membranes, contact Craig.Long@agc.com, 337-764-1851.