Europe's Largest Infrastructure Project Relies on Fluon® ETFE Film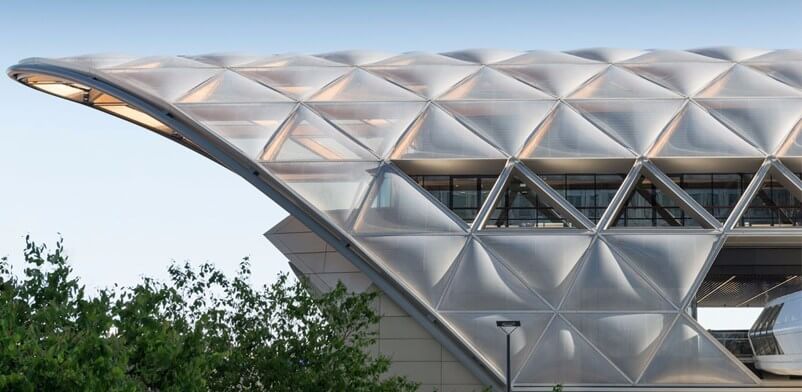 Reading Time: 2 minutes
The Canary Wharf regional tube station is a part of a major construction development ongoing in Europe. Located in London's Docklands under Crossrail Place, this tube station will be an architectural marvel that links the City of London business district, the West End and Heathrow.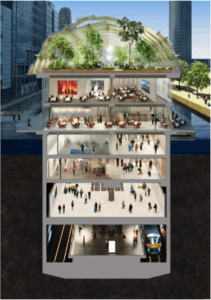 Canary Wharf Station, designed by Lord Norman Foster, is a 300m long "super station" with a transparent roof made from ETFE film. A timber structure holds the 778 two-layer, air filled ETFE film-cushions that cover 10,000sqm. The film lets in color, light and views from the outdoors while maintaining an ideal temperature for an indoor environment.
In addition to functionality, ETFE film also provides a beautiful appearance to the Crossrail station. The air-filled cushions create a stunning, translucent roof that is supported by a combination of wood and metal.
Entirely surrounded by the water of the West India Quay dock, the station is 18 meters below sea level. This presented significant design challenges but provides access to the Canary Wharf Estate while retaining a navigable channel for boats.
Additionally, the station has six floors; two floors plus the rooftop garden are above sea level, the other four are below (Pictured Right).
Beautiful Functionality
Fluon® ethylene tetrafluoroethylene (ETFE) is the high-performance fluorine-based plastic film that roofs the station. Despite being lighter than glass, ETFE film provides superior durability and a wide range of benefits for outdoor use:
High tensile elongation
Temperature resistance over 200°C
Light transmission higher than 90%
Superior tear strength
Long-term weatherability
Noise Absorption
Nonflammable
The durable, lattice roof shelters a roof-top garden that lets in light and rain for natural irrigation, while the transparent air pillows allow direct views in and out of the building.
Overall, ETFE film provides a functional and cost-effective roof for the Canary Wharf station. The ETFE-cushions offer their desired weatherability requirements while also creating a beautiful exterior for the structure. The full Crossrail system plans to be finished in 2018.
To learn more about the Canary Wharf Crossrail Station, click here.
Check out this flipbook to see how architects around the world are using ethylene tetrafluoroethylene film on iconic architectural structures.