Medical Disposables Treated with AsahiGuard Repellents Resist Water, Oil and Alcohol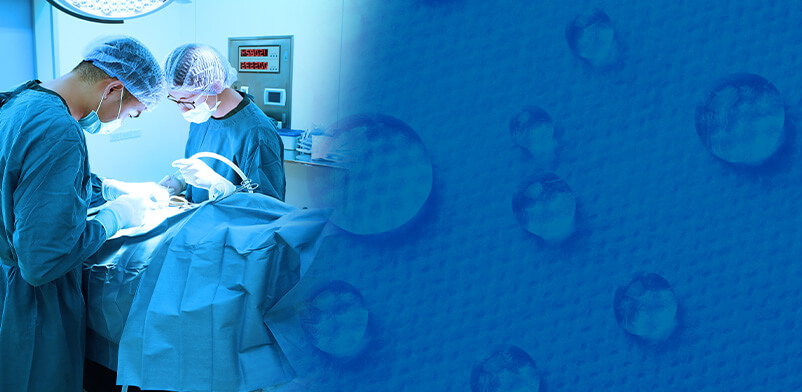 Reading Time: 3 minutes
Medical facilities are always looking for better ways to protect their patients and staff against harmful pathogens to ensure a safe and compliant environment.  When used on nonwoven medical disposable products, AsahiGuard E-Series repellents provide a barrier of protection against water, oil and alcohol.
Nonwoven fabrics are used to manufacture disposable medical apparel and products such as surgical gowns, drapes, face masks, bed linens, dressings, wraps. When coated with AsahiGuard E-Series repellents, medical products become resistant to bodily fluids and oil as well as blood to mitigate health risks in medical environments.
The barrier offered by AsahiGuard repellents helps protect patients and medical staff against bacteria, disease, and infection. In fact, Allied Market Research cites surgical nonwoven products as effective in preventing hospital-acquired infections (HAIs) that are the leading cause of morbidity and mortality among hospitalized patients
Growth of nonwovens in healthcare
Nonwoven fabrics are different than traditional woven fabrics or textiles produced by weaving or knitting together thread or cotton. Nonwovens are engineered as sheet or web structures that contain no yarn or internal structure. They are created by bonding materials with a mechanical, thermal, or chemical process.
Cross-contamination is a problem associated with re-usable gowns, masks, bedding, and other medical products made from woven fabrics. However, medical products made from coated nonwoven materials significantly reduce this problem, providing a cost-effective solution.
Nonwoven fabrics offer other desirable characteristics for medical products, including comfort and air permeability. The INDA reports that the combined medical and hygiene sectors currently consume more than 90% of the total nonwoven production in U.S.
Importance of repellents

The healthcare industry depends on the effectiveness of fluid barriers in medical products. These barriers are required to protect patients and staff against the spread of bacteria and virus in different medical and surgical areas.
Although nonwoven fabrics have some hydrophobic properties, they still require chemical coatings to improve their level of repellancy. AsahiGuard E-Series repellents provide the needed protection and durability against bodily fluids and oils, blood and alcohol without changing the texture, color or breathability of a fabric or material.  They help healthcare facilities meet critical safety protocols while ensuring sterile environments.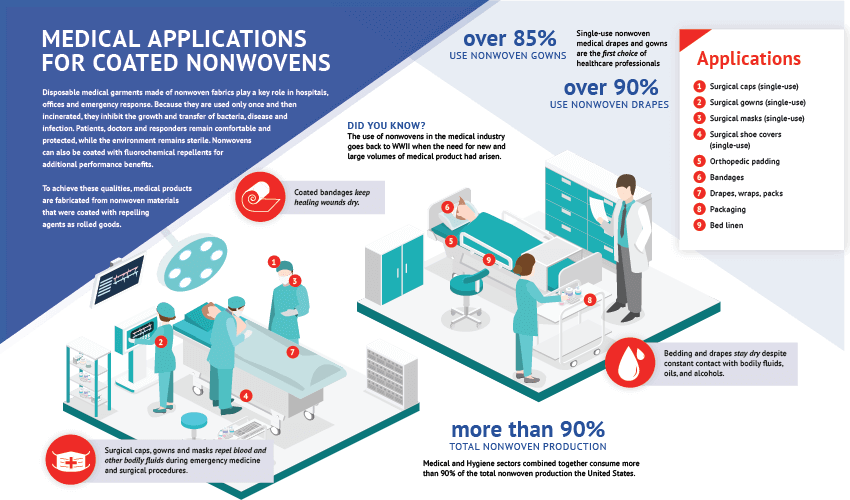 Applications for coated nonwovens in healthcare
Surgical, examination and contamination control gowns
Lab coats
Drapes
Wraps and packs
Sponses, dressings
Bed linens
Surgical cpas, face maks, scrubs, shoe and head covers
Would care
Underpads
Incubator mattresses
What makes AsahiGuard repellents better?
AsahiGuard repellents are fluorinated coatings that provide excellent moisture and oil protection and durability without changing the texture, color or breathability of a fabric.  Fluorinated coatings are more effective than silicone repellents, which offer little to no oil and solvent repellency and have poor stain release qualities and durability.
When applied to nonwovens, AsahiGuard coatings are non-flammable, odorless and transparent.
Drawing on the properties of low surface tension, AsahiGuard repellents possess superior thermal and chemical stability. These qualities improve the performance, strength, resilience and durability of nonwoven fabrics. When used as a repellent for medical disposables such as surgical gowns and drapes, AsahiGuard coatings offer a protective surface finish that protects healthcare workers and patients against fluid-borne pathogens.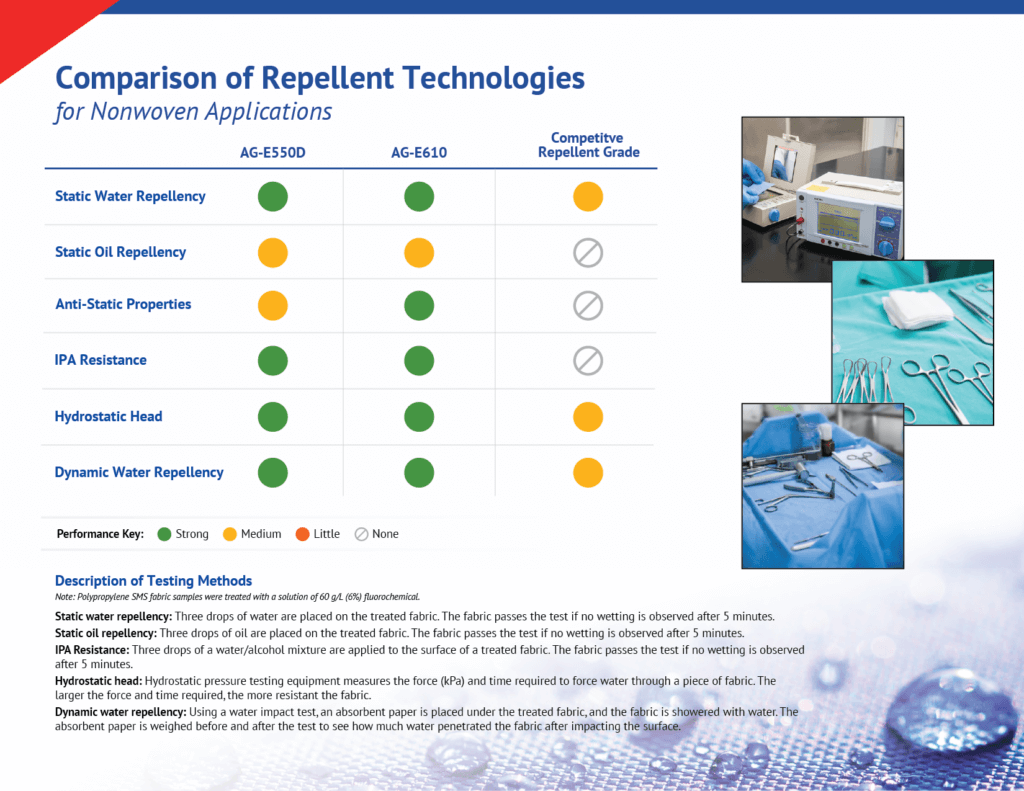 Benefits of AsahiGuard Repellents
Surgical caps, gowns, masks and shoe covers repel blood and other bodily fluids during emergency medical and surgical procedures.
Coated bandages keep healing wounds dry.
Bed linen and drapes stay dry despite constant contact with bodily fluids, oils and alcohols.
Patients, doctors and responders remain protected against HAIs.
Medical environment remains sterile.
To maintain these benefits, disposable medical woven products should be worn once and incinerated to stop the growth and transfer of bacteria and disease.
AGC Chemicals Americas can help you select the ideal grade of AashiGuard moisture repellent for medical nonwovens. Contact us at 800-424-7833 or download the free selection guide to Moisture-Resistant Nonwoven Fabrics for Medical Disposables.