LUMIFLON® FEVE-Based Paint Formulation Maintains Aesthetics and Durability of 2022 "Top Bridge"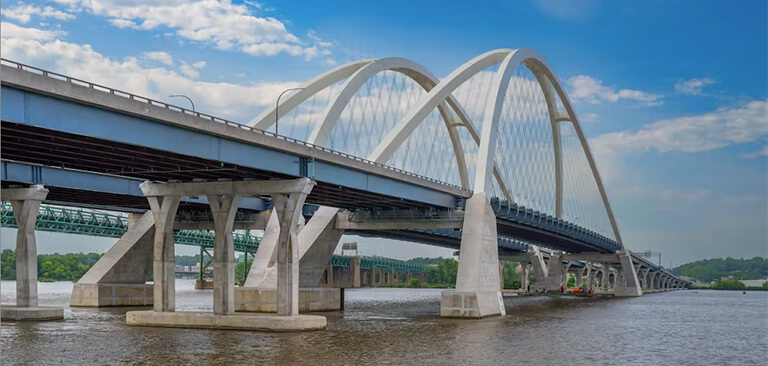 Reading Time: 3 minutes
Roads and Bridges Magazine top bridge of 2022 – the I-74 Mississippi River Bridge – was designed with a fluoropolymer coating system that included our LUMIFLON® FEVE resin. The LUMIFLON-based paint formulation was deemed an essential design element to improve bridge durability and aesthetics.
Built in 2021 as a $355 million joint venture between Iowa and Illinois, the I-74 Mississippi Bridge alleviates traffic congestion and supports economic growth in the region. Replacing the Iowa-Illinois Memorial Bridge, it improves access across the Mississippi River in the Quad Cities with four lanes in each direction and shoulders for pedestrians and bicyclists. Deemed a bridge for the future, the bridge features steel arch ribs in a basket-handled configuration.
Goal to Reality
The goals for the new bridge included: improved connection among the communities with additional lanes, adequate shoulders, and provision for safe bicycle and pedestrian access. The new bridge realized all of these goals, spanning over 3,400 feet of river with an 800-foot navigation span. It was built on bedrock close to the surface of the river.
To design the foundations, a method had to be developed to efficiently transfer the arch thrust to the bedrock. This presented significant construction challenges. Engineers had to figure out how to seal a cofferdam for excavating rock without adding soil to the river. The method selected relied on drilled rock sockets to transfer the thrust as a shear force.
Modjeski and Masters designed steel arch ribs for the bridges, which were susceptible to buckling both vertically and laterally. A two-step approach was used to determine the ultimate capacities of the arch ribs, including the effects of residual stress and initial imperfections.
The original bridges carried two lanes of traffic, were substandard in width and provided no shoulders. The new bridges carry four lanes of traffic with full shoulders on each side, doubling the I-74 capacity at the river crossing.
Protection Against Weathering
Several design details were included to improve the durability of the bridge, including:
A fluoropolymer coating system on the arch ribs
Stainless-steel reinforcing steel in the concrete deck and barriers
Uncoated weathering steel used in the floor system
A maintenance waterline along the floor system
Painting the fascia girders with a fluoropolymer coating
A structural health monitoring system
The ability to replace any hanger on the bridge without significant interruption of traffic
The arches and all exterior surfaces used on the approaches of the bridge are coated with Sherman Williams paint formulated with LUMIFLON to ensure its long-term, ultra-weatherability and corrosion-resistance. The coating provides protection from degradation caused by the constant impact of environmental elements, including UV light, wind and rain. The high-performance resin also withstands severe ultraviolet light exposure more than twice as long as conventional coating resins.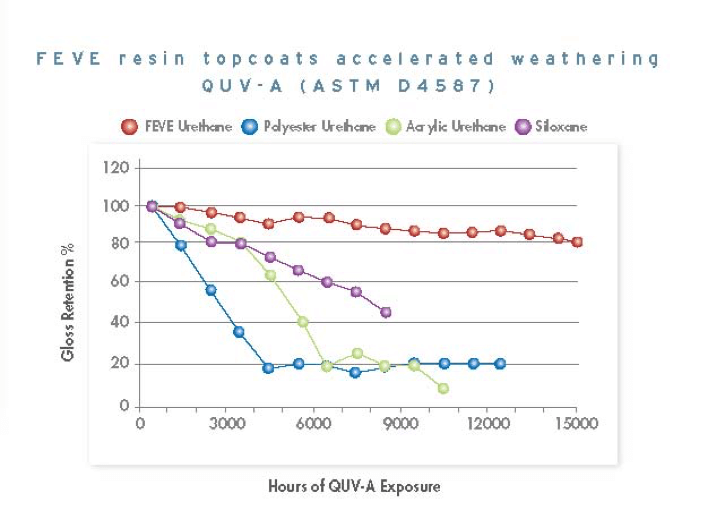 Lasting Aesthetics
As the bridge arches are first to catch the eye, the FEVE resin-based coating maintains their aesthetics for years with outstanding colors that don't chalk or peel. FEVE's unique chemical structure keeps corrosion from penetrating the top coat and degrading the primer underneath.  LUMIFLON FEVE-based coatings result in substantial life cycle cost savings over conventional coatings due lower maintenance and recoating costs.
Low VOC and HAPs-free Formulations
As a hybrid fluoropolymer resin, LUMIFLON can be formulated into coatings with a range of gloss and more than 230 colors. The first solvent-soluble fluoropolymer resin for coatings, it cures at room or elevated temperatures for field application.
Available for almost any type of coating including solvent-based and powder-coated resins, LUMIFLON formulations meet stringent green building criteria for low VOC and HAPs-free coatings to reduce environment impact associate with the production, transportation and repainting processes.
Outperforming Competitive Coating Technologies
LUMIFLON FEVE resins outperform common coatings such as alkyds, chlorinated rubber, acrylics, and urethanes. When subjected to accelerated weathering tests, FEVE-based coatings exhibited a five times greater lifespan over acrylic urethanes and eight times the over alkyd coatings. Among its advantages:
Cures at room or elevated temperatures
First solvent-soluble fluoropolymer resin in wide range of glosses.
Solvent grade, solid, water-based and powder coating resins to address different application requirements.
Fluoropolymer properties offer ultra-weatherable and corrosion resistance in coating formulations.
Longer life cycles – up to 60 years.
For information on LUMIFLON, visit https://www.agcchem.com/products/high-performance-coatings/lumiflon-fluoropolymer-resins/ or call 800-424-7833.