Building Curtain Walls, Bridges and Other Architectural Elements that Stand the Test of Time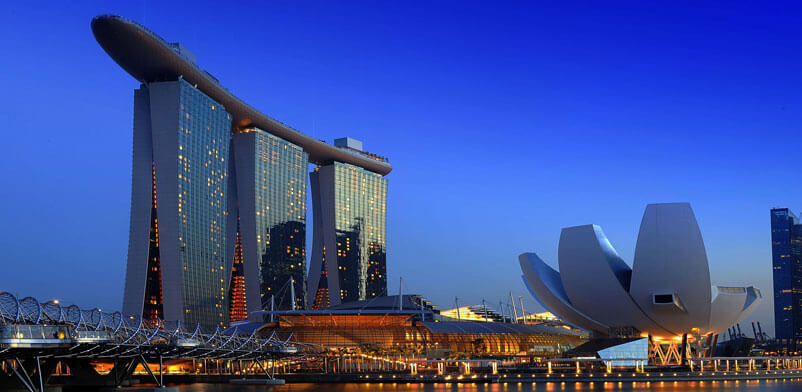 Reading Time: 2 minutes
Today's architects and commercial builders are challenged to create innovative, environmentally sustainable structures that will last for years. Fortunately, advances in FEVE (fluoroethylene vinyl ether) fluoropolymer resins for paints and topcoats help these structures withstand the elements for decades.
In a new on-demand webinar recording, AGC product experts outline the advantages of FEVE-based topcoats for applications such as bridges and curtain walls. They evaluate coating performance tests, life-cycle cost advantages and sustainability benefits of FEVE-based coatings.
The Benefits of FEVE Resins
FEVE resins are comprised of alternating fluoro ethelyne and vinyl ether copolymers with an amorphous structure. The fluoro ethelyne polymers provide durability, while the vinyl ether polymers provide transparency, flexibility, crosslinkability and pigment and adhesion. Together, they offer benefits such as high weatherability, chemical resistance, gloss, and solubility.
Coating systems made with FEVE resins are easy to apply and can withstand UV exposure 2-3 times longer than conventional coatings. Coatings containing FEVE can be used for both new construction and rehabilitation in the field because it can be applied at much lower temperatures than traditional coatings made with PVDF (polyvinylidene fluoride).
There are four main types of FEVE resins:
Solvent-based resins for liquid coatings
Resins for low VOC and HAPS-free liquid coatings
Water-based resins
Powder coating resins
FEVE –based coatings are ideal for repairing curtain walls, bridges, metal roofing and handrails. They offer excellent color and gloss retention for 30 years or more.
FEVE-based powder coatings are used by OEMs to coat new aluminum extrusions, fabricated curtain walls, windows and other architectural elements. They use no solvents and contain zero VOCs. Like liquid resins, powder coating resins offer a lifespan of 30+ years as a topcoat with superior gloss and color retention, chalking resistance and resistance to airborne chemicals and acid rain.
Weathering and Corrosion Testing
AGC uses both accelerated and real-time weathering and corrosion testing to observe how FEVE resins hold up over their lifetime. This testing enables them to monitor direct changes to a material's properties caused by exposure to the environment. In both tests, FEVE resins retain their gloss and film thickness while resisting chalking and corrosion better than competitive products.
Life-Cycle Cost Advantages
One of the most important advantages to using FEVE-based coatings is the cost-savings that can be achieved due to their weatherability. Recoating is often not necessary for 30 to 60 years after the initial coating is applied so they have lower relative life-cycle costs than polyurethane. Despite a higher initial cost, FEVE can save 15-30% over time.
Environmental Considerations
FEVE resin-based coatings also help reduce environmental impact over the life of the building or structure since they don't need to be re-applied as often as competitive products. Powder coatings are low VOC because they do not contain solvents, and they don't contain lead or chrome. Because only a single coat is required, powder coatings can provide superior performance than liquid coatings. Powder coatings can also cure at lower temperatures, reducing energy use. For these reasons, the Environmental Protection Agency (EPA) recommends powder coatings as a sustainable coating option. Using a FEVE-based powder coating can also help with LEED credits and certification of a building.
For more information about how you can use powder and liquid FEVE-based coatings for your buildings and structures, watch our webinar Powder and Liquid FEVE Coatings for Curtain Wall & Infrastructure Applications.