FEVE Resin Technology Protects Amazon's Spectacular Spheres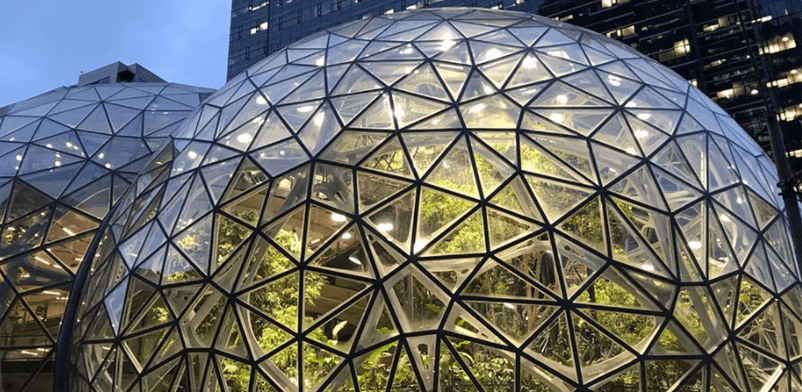 Reading Time: 2 minutes
In downtown Seattle, there is a new standard for environmentally friendly office space. Amazon has added three sphere-shaped buildings to its headquarters that take architecture and horticulture to a whole new level.
The trio of domes made with glass and steel are designed to create an office space that is connected to the natural world through biophilic design. FEVE resin technology makes these designs possible because they produce coatings that withstand harsh outdoor conditions.
A Natural Wonder
Biophilic design is an innovative way of designing the places where we live, work and learn. It seeks to maintain a fundamental connection with nature. Inside the Amazon buildings, intermingled amongst the meeting spaces, canopy walkway, and restaurants are over 40,000 individual plants, including a 55-foot-tall, 48-year-old Fiscus rubiginosa named Rubi.
Of the three, the largest sphere is approximately 90 feet tall and 130 feet in diameter. The entire structure is covered by 2,643 panes of clear glass shaped in a geometric pattern found in nature, known as a Catalan solid.
FEVE Resin Protection From the Inside Out
Typically, FEVE resins protect buildings from harsh outdoor environments. However, the interior structure of Amazon's spheres needs to be protected from the elements found on the inside. Mimicking a real tropical rainforest, inside temperatures during the day can rise to approximately 72 °F with 60% humidity, while at night, temperatures drop to 55 °F with 85% humidity. The fluctuation between temperatures paired with the high humidity creates constant condensation. To combat corrosion caused by the exposure to these elements, the spheres' steel frames were coated with an FEVE-based fluoropolymer resin.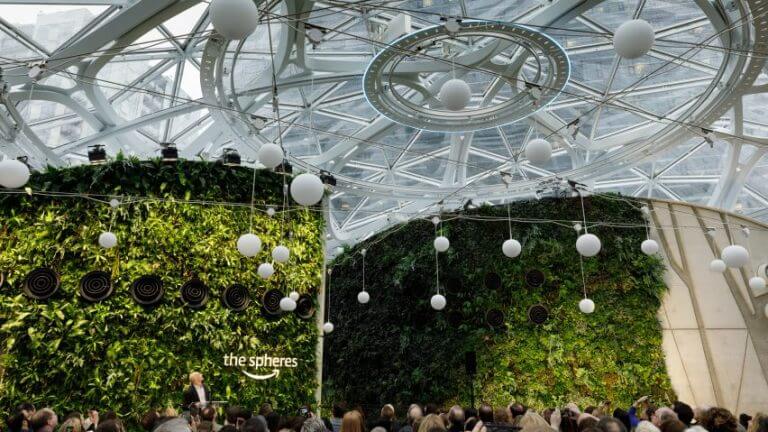 Architectural surfaces at risk of degradation from environmental elements are ideal for LUMIFLON® FEVE resin technology. The FEVE resin topcoat used on Amazon's spheres provides the structure with extreme weatherability and durability, protecting from UV light, wind, rain and corrosion. FEVE resins also give buildings aesthetic benefits. Different colors and glosses can keep structures shining for decades to come.
Advantages of FEVE Resin-Based Coatings
LUMIFLON coatings maintain their excellent durability and appearance on buildings, bridges, aircrafts, automobiles and solar panels. These FEVE resins are applied to steel, aluminum, concrete and many other substrates that need protection from environmental degradation. They are available for almost any type of coating, including:
Solvent-based resins
Powder coatings resins
Environmentally friendly solid resins for low VOC and HAPS-free coatings
Water emulsion resins
Water dispersion resins
For more information on LUMIFLON FEVE resins, click here.
Photos courtesy of dezeen.