Developments in Architectural Coatings: New FEVE Resin/Polyester Blends Produce Superior Metallic Finishes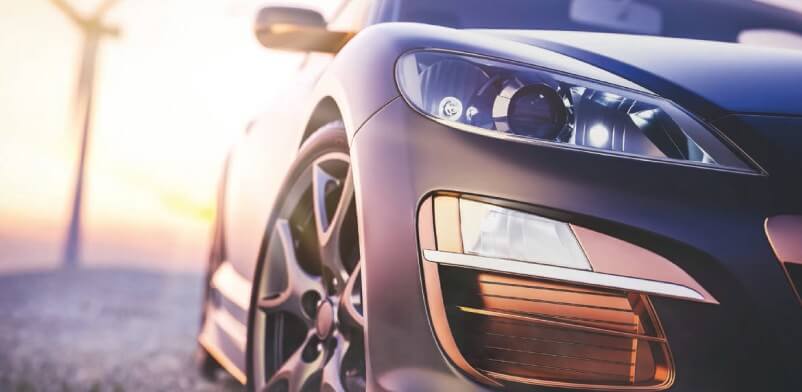 Reading Time: 2 minutes
More than 10% of today's powder coatings use metallic pigments, and color and aesthetic trends show a growing demand. However, it is still very challenging to formulate metallic powder coatings that have the durability and weatherability characteristics required for buildings and structures. That's because traditional fluoropolymer-based coatings like PTFE and FEP require melt points for adhesion that architectural structures like aluminum substrates can't tolerate.
AGC recently conducted a study to demonstrate a new way to achieve low-cost, durable metallic coatings for architectural structures by blending FEVE resins with super-durable polyester resins. The new blended resin:
Protects metallic pigments from damage (like shearing during processing)
Does not require solvents
Reduces material costs
Delivers exceptional performance strength and gloss control
Advantages and limitations of conventional fluoropolymer-based coatings
Fluoropolymers have superior chemical, corrosion and thermal resistance. They also have excellent weathering, surface and aesthetic properties when applied as coatings on different substrates. Typical examples include:
PTFE (aqueous dispersions of polytetrafluoroethylene)
FEP (tetrafluoroethylene/hexafluoropropylene copolymers)
PFA (tetrafluoroethylene/perfluoroalkyl vinyl ether copolymers) used in nonstick and anticorrosion applications
PVDF (polyvinylidene fluoride) used in liquid paints for architectural applications
However, these fluoropolymers are not necessarily suitable for use in powder coatings in architectural applications. For example, PTFE can't be used to make a film with powder coatings; it does not have a clean melt point and requires pressure and heat to form a film, which the architectural substrates can't withstand.
Fluoroethylene vinyl ether (FEVE) resins are a better choice for powder coatings because of their unique chemical structure with vinyl ether groups. They are resistant to UV, chemicals and corrosion, and are also able to adhere to pigments and be cross-linked with other resins for added stability.
 Blending to achieve metallic effects
For the study, AGC blended 30% FEVE resin powder and 70% super-durable polyester powder using a four-step process (see figure below). They added aluminum pigments to the blends after the extrusion process, then electrostatically coated the substrate with the blend, and finally cured it.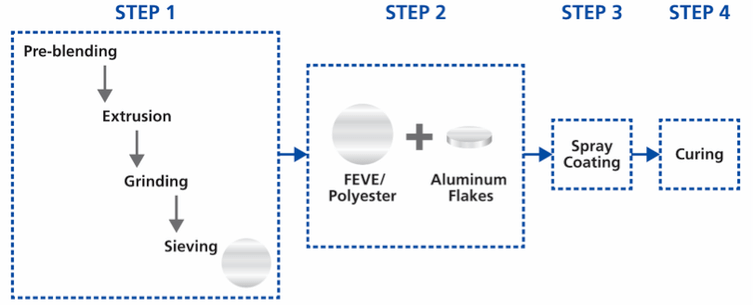 Using this process, the polyester resin adheres to the structure, while the FEVE resin migrates to the surface of the coating. The metallic flakes stay sandwiched between the polyester and FEVE layers. The FEVE resin provides a clear layer that protects both the polyester and metallic pigments from shearing, providing increased durability. 
More about FEVE resins, the most UV-resistant and chemically stable polymers
LUMIFLON® FEVE resins were developed in 1982 by Asahi Glass. FEVE is a thermoset polymer that can be processed through typical thermoset powder coating equipment. No liquid nitrogen is needed during the process, which makes it more process forgiving.
The unique alternating pattern of fluoroethylene and vinyl ethers in FEVE resins is critical for their superior UV resistance. The chemically stable and UV-resistant fluoroethylene unit chemically protects the neighboring vinyl ether unit. The vinyl ether groups make FEVE polymers usable as resins for powder coatings by providing high gloss, hardness, transparency and flexibility as well as pigment compatibility and adhesion. The vinyl ether groups also allow for functional groups, like hydroxyl groups, to be incorporated into the structure for cross-linkability.                              
To learn more about the process, click here.