AGC fine silica products are available with mean particle diameters from 1.6 µm to 200 µm, with oil absorption capacities from 30 ml/100 g to 400 ml/100 g, surface areas of 40 M2/g to 800 M2/g, and with porosities from non-porous to over 2 ml/gram.
AGC's three major grades of fine silica are: 
Solesphere™:         For cosmetic and personal care use and as functional fillers or absorbents
M.S. GEL™:             For chromatography and chromatographic media
Sunspera™:            For catalyst support materials
Solesphere™ products, as an ingredient in make-ups, lipsticks, and eye products, diffuse light for a matte effect, absorb sweat and sebum, and contribute to a smooth feel in application. In skincare products and sunscreens, certain Solesphere™ products boost SPF. Solesphere™ micro-spherical silica products are safe and effective alternatives petrochemical based polymeric micro-beads, which are harmful to water-life. Highly porous Solesphere™ products are used to carry fragrances and antiseptics. Non-porous Solesphere™ products are used to provide insulating and light diffusing properti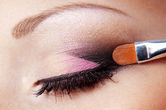 es in specialty polymer systems.
M.S. GEL™ (Micro-Spherical) products are used in both analytical and process chromatography. High-purity, narrow particle size and pore size distributions provide for superior chromatographic performance. M.S GEL™ products are available with mean particle sizes from 1.6 microns to 200 microns, and across pore diameters of 80 Angstroms to 1,500 Angstroms. M.S. GEL™ products, make very effective media for a wide range of chromatographic separations and purifications – from small molecules, to polypeptides and proteins, to the capture of biologicals, such as monoclonal antibodies.
Sunspera™ products are used as heterogeneous catalyst supports for polymerizations, hydrogenations, and other catalytic reactions. Highly uniform spherical shape, large porosity (available to over 1.6 ml/g), high surface areas, and good particle strengths make Sunsphere™ materials effective and high-performance catalyst supports.
Click here for more information about AGC fine silica products.